Try Paddling with Dragons Alive!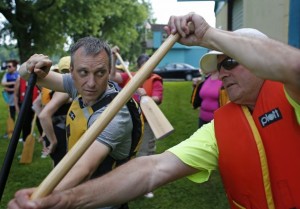 Dragons Alive is happy to welcome new and prospective members from the Capital Region and beyond. We offer interested people an opportunity to paddle in up to two regular team practices on Monday or Thursday evenings, 6-8 pm beginning the last week in May. Please call or email Sheila Platt at JPLATT002@nycap.rr.com (518) 669-3033. There is no commitment or fee to try it out!
We have all the equipment you'll need to paddle safely (PFD, Paddles) but you will need to bring water to sip while practicing.
Practices begin with warm-up exercises; the coach then designates who sits where in the boat in consideration of skill levels, weight balance, and paddling side preference. We normally paddle for 1.5-2 hours, depending on weather and light conditions.
Dress appropriately for practice; technical fabric fast-dry shirts and pants or shorts are most comfortable; any exercise wear will usually be ok. Note that it is usually a few degrees cooler at the Marina than in surrounding areas. Do not wear cotton as it absorbs and holds water.
Please send your questions / inquiries by clicking the button above