Feed The Dragon – Dragon Boat Festival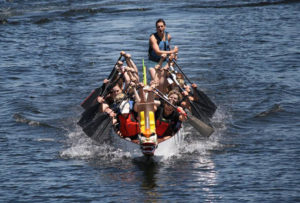 Mark your calendar now for the 2016 Dragon Boat Festival "Feed The Dragon" presented by Dragons Alive & Mohawk Valley Marine to Benefit the Regional Food Bank of Northeastern New York
July 24, 2016 – 8 am – 3 pm
Dragon Boat Racing, Music, Food & Entertainment
Go for It!….Register Your Team…Feed the Dragon…Support the Regional Food Bank
200 Meters…2-3 minutes…paddlers working together to win their race…rest…repeat…
Our goal is to raise a total of $32,000 this year.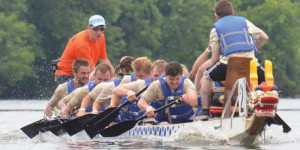 You and your team will be an integral part of this effort.
Here's what past paddlers had to say about the festival…
"…The hardest 30-40 seconds of work you will do…" said Mark Quandt, Regional Food Bank Director, of his paddle with the Food Bank's Boat at the 2015 Festival.
"We brainstormed team names, designed t-shirts, found fun ways to decorate our tent, and covered ourselves with fancy dragon tattoos"
"Participating in the festival was amazing. Most of us had never heard of dragon boating. Now we are hip to one of the fastest-growing sports in the world!"
"Many team members, accustomed to watching their kids' sporting events from the sidelines, were excited to BE the athlete! While our goal was to have fun, each time we stepped into the boat, our competitive nature emerged. Energized by cowbells and cheering from our friends and family, we gave it our all!"
"At the end of the day, we remembered the smiles, laughter, hugs, and exhilaration of paddling the dragon boat! It's hard to imagine a more special way to combine a rewarding, team building, athletic activity that gives back to the community."
"Everything ran on time. Impressively organized and a ton of fun"
Feed the Dragon introduces people to the great sport of dragon boating while providing the opportunity to support an organization that provides fresh and healthy food to people in Northeastern New York who struggle to meet their families' food needs.
The Feed the Dragon Festival coordinators are happy to announce a new fundraising model that will enable them to provide a larger donation to the Regional Food Bank beginning with this year's 3rd annual Festival. Make an online donation to a festival paddler HERE and 100% of the funds raised over and above the entrance fee will go to the RFB's Farm in Voorheesville, in addition to 75% of the net proceeds from entrance fees for the Festival.
<iframe width="1280" height="720" src="https://www.youtube.com/embed/eRQ7MPek910?showinfo=0" frameborder="0" allowfullscreen></iframe>
Need to pay for your team registration? Please pay via Paypal: