Team Registration
Contact Us To Register A Team!
Any adult (over 18 years) can participate in dragon boating. Get your neighbors, family, friends, and work colleagues together to have fun and experience paddling on the Mohawk River! Each boat holds 20 paddlers and a drummer per boat. (A minimum of 18 paddlers is acceptable.)
Entry Fee
The entry fee is $2000 per boat. Your entry fee covers the cost of personal floatation devices (PFD's), paddles, and boats, along with the coaches and steerspeople and time to practice before the race. Dragons Alive provides a donation to the regional food bank of 75% of the net proceeds. The Team (a not-for-profit 501.c.3 corporation) retains 25% of the net proceeds to support its team's health and fitness activities.
Fundraising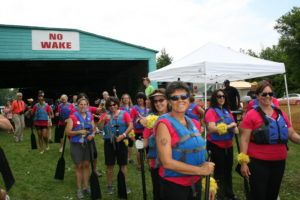 Captains and teams are strongly encouraged to raise funds over and above the entrance fee. Teams raising over $2000 above the entrance fee are eligible for prizes for the most funds raised; individuals who raise $500 above the individual seat entrance fee of $100 are eligible for the individual fundraising prize. Prizes include full or half shares in the RFB Farm's CSA, as well as cash.
The online donation tool will automatically track each person and team's progress toward fundraising goals, so check it often. Visit our Fundraising Ideas page for information on the fundraising and donation collection process and helpful tips. Paddles up!
Click here for your Festival Waiver!
Please Note Our Festival Rules:
• No Pets.
• No Alcohol.
• No Bare Feet.
• Only Paddlers with PFD's are allowed on the dock.
• Parking in designated areas only. No parking on the sides of Mohawk Ave and Maritime Drive.
This is our third annual festival in partnership with the Northeastern Regional Food Bank. In addition to having a fun family day and experiencing a new way to improve and maintain fitness, you are getting a chance to help families and individuals experience the benefits of clean fresh food. The Feed the Dragon event supports the Regional Food Bank's Farm, based in Voorheesville, New York. Proceeds from past festivals have been used to support the activities of the farm including preserving and cultivating the farm land, distribution of produce that is grown, infrastructure development, and equipment purchases to improve operations.
Team Makeup
Once people are signed up, encourage your teammates to raise funds, get fit, and keep their commitment to paddle. Click here to get ideas about how to do fundraising as a team and develop team spirit.
When you have a team together, challenge others in your line of business (volunteer groups, schools, medical practices, etc) to form a team.
No particular skill or experience is required to paddle a dragon boat. The main component of community festival team success is learning to paddle in sync, which we will work on with you as you practice.
What to Expect on Festival Race Day
• Racing how-to meetings will be held for team captains just before the practice session assigned to the teams. See the Practice Schedule Page for your Captain's seminar and team practice times.
• Each race heat is a 200 meter straight course which should take from 2-3 minutes once the race has begun. No more than 4 boats compete in each heat. Safety boats operated by the US Coast Guard Auxiliary and the Burnt Hills Rowing Club will patrol the course in the unlikely event of an emergency.
• Racing divisions, which group similarly performing teams together, will be determined from the combined heats of the morning and afternoon races.
• The teams will be ranked according to their combined times and then grouped into competitive divisions with an equal number of teams in each division.
• The 3 fastest teams in each division will have the opportunity to race each other for their division championship.
• In between the races, teams will be free to relax, or to participate in warm-up exercises until they are called. Captains are responsible for making team members aware of the need to report promptly to the marshaling area in order to avoid delays.
Team Benefits
• This is a great opportunity to improve your personal fitness through a fun accessible exercise and help stop hunger in the Capitol Region.
• A Team Tent which we encourage you to decorate.
• Each team participates in at least two race heats. Winners of preliminary heats will advance to race similar teams as the day progresses.
• Each team will have a practice time before the race. The time and date of these practice sessions, with a steersperson and a coach helping your team achieve rhythm and consistency will be determined by the number of teams recruited, and will be arranged as the date of the festival approaches.
• Medals for first and second places, as well as for participation.
• Opportunity to design and purchase at cost your own customized team t-shirt through (Merch Now/EVR)
• Prizes for best decorated tent, best drummer costume and best team t-shirt.
• Prizes for highest team fundraising and personal festival fundraising totals (Teams raising over $2000 and individuals raising over $500 are eligible for these prizes).
• A fun-filled day geared toward families in a beautiful marina setting.
• Access to personal and team festival fundraising web pages.
• The thrill of having competed with your team!
Need to pay for your team registration? Please pay via Paypal: